A Financial Plan Designed to Build Wealth & Protects Your Family
Providing the Soundshore region of Westchester with financial planning designed to build wealth, protect your future, and is easy to implement.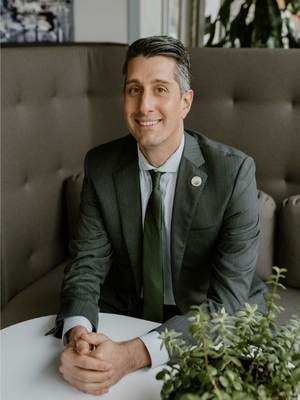 I'm Pat, the Founder of Larchmont Wealth Management and a Larchmont resident. Over time, I have seen that most people struggle with their financial plans; either cobbling together a "do-it-yourself" approach, or alternatively paying exorbitant fees to larger advisory firms. I saw an opportunity to use my experience managing investments to help people take control of their financial futures.
I believe there is a way to have the security and diverse products available through a primary clearing relationship with RBC Correspondent Services, a subsidiary of one of the worlds leading multinational financial services companies with over $1 Trillion in assets; the Royal Bank of Canada (NYSE:RY), coupled with a tailored, fee-efficient, local approach that gives you more control of your finances.
A Lack of Financial Planning Can Cost You
Lost Money
While most people focus on keeping household bills and expenses in line, an underperforming retirement portfolio could be the biggest financial leak in a person's life. Don't lose money because you don't have a plan in place. I will walk you through an actionable plan that helps you achieve your financial goals by using tax efficient investment strategies.
Lost Time
Make no mistake about it – true financial management is a full-time endeavor. The end result of a "do it yourself" financial plan can be similar to any "do it yourself" project around the home; time-consuming; with disappointing results that could end up becoming much more expensive than working with a professional when it is all said and done.
Lost Opportunity
By not taking simple steps to maximize your earnings, you and your family may be missing out on opportunities now and down the road. With an unlimited world of investments to choose from it is overwhelming to know which ones are best suited to achieve a person's financial goals. Let me prepare a plan designed to build wealth for tomorrow starting today.
Let me show you how simple it can be to execute a financial plan designed to build your wealth and protect your future.
I can help you put together a plan that puts you and your family in the best financial position possible. My services include:
Educational Savings Plans (529 Plans)
Retirement Plans for Small and Medium Businesses
Discounted First Responder Retirement Planning
Private Equity through SternAegis
Risk Management with Riskalyze
Financial Planning with MoneyGuide
I regularly help clients who have invested in a private company that becomes public (either through the IPO process or via "SPAC" merger) so they are well positioned to deposit these shares into a brokerage account.
With small or recently public companies I believe it is critical to have this process complete so your restricted stock units (RSUs) can be sold when desired.
Schedule a free consultation.
Meet for a comprehensive review of your current finances and future goals, and then implement a plan that helps you reach those goals.
Take comfort in knowing you've finally taken control of your financial future and that you have me in town to help keep you on track.